Tim Harris is the CEO of Wesgro – the Tourism, Trade and Investment Promotion Agency for Cape Town and the Western Cape. Harris holds a Bachelor of Arts in English Literature and a Masters in Economics from the University of Cape Town.
Under his leadership Wesgro – together with partners in the public and private sector – has landed 19 new direct international flights and 23 route expansions through the Cape Town Air Access project (which Harris played a pivotal role in establishing). Furthermore, a record breaking R11 billion in committed investments has been realised, with an export value of R20 billion from Cape Town and the Western Cape achieved since his appointment. Passionate about tech innovation, and driven by the desire to see an inclusive economy within the Western Cape, Harris currently sits on the board of the Cape Town Film Studios and BPESA.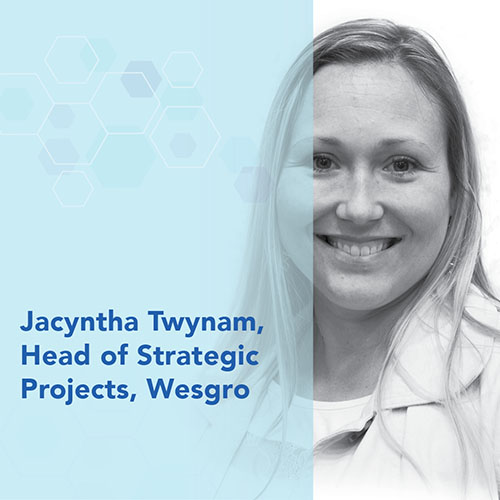 Twynam has over 13 years of experience working within the public sector on economic analysis, business development and strategic initiatives.
Heading up the Strategic Projects Unit at Wesgro – which is houseds projects such as the Cape Health Technology Initiative, Cape Town Air Access, Cruise Cape Town and previously, the Atlantis Special Economic Zone – she has a Masters degrees in both Commercial Law and International Trade.
Kajie has 12 years of international business development experience, and is instrumental in the facilitation of foreign and domestic direct investment into the Western Cape Province.
Heading up Wesgro's Investment Promotion Unit from 2015 to 2017, and was responsible for coordinating the Agency's efforts in securing an estimated R11.6bn worth of direct investment over the period, Kajie has since moved on to commercialise the Invest SA, One Stop Shop (Western Cape): a co-location investment center that comprises of 14 regulators who assist multinational corporations expedite regulatory processes as they seek to locate operations in the region.
Born out of his passion for creating value within business, government and society, Kajie has a degree in Political Science from the University of Cape Town, and an MBA cum laude from the University of Stellenbosch's Business School.
Kuni has 25 years of experience in business development, strategic planning and international relations, along with a Master's degree in Development Economics and International Development from York University in Canada.
Responsible for formulating, managing and implementing provincial export promotion and development strategies, since his appointment as Head of Exports in 2017 over R17 billion in export deals have been achieved.
Smith-Clarke holds a Bcom Honours Degree in Management from the University of the Western Cape, and has over 12 years of International trade experience.
Managing Wesgro's Export Advancement Promotion (EAP) programme, she assists export ready companies with the basics of exporting. The EAP – designed and managed by Smith-Clarke – includes export
training, mentorship and promotion. She brings a wealth of knowledge related to various sectors in the global market.
Keyter is a pharmacist with over 10 years of experience within the field of regulatory affairs, quality assurance, quality risk management, pharmaceutical production, complementary medicines manufacture, and risk-based inspection planning.
Responsible for the application of the medical device regulatory framework in South Africa and for the regulation of medical devices and in vitro diagnostics, Keyter is currently the Chair of the African Medical Device Forum and an assessor and trainer for the World Health Organization (WHO) Global Benchmarking Tool (GBT).
Leading Deloitte's Digital, Innovation and Venturing portfolio's, Adao is a member of the firm's Global Innovation Executive, the former founder of Monitor Deloitte, and the leader of Deloitte Digital in the region.
A corporate entrepreneur with extensive experience in venturing and commercialising businesses across a number of industries, Adao works with the CEO's of leading organization's to scale innovative and impactful technology concepts into high growth, sustainable entities. He is a professor of practice at the Johannesburg Business School, and a faculty member of Singularity University.
Recipient of the Constellation Business Transformation 150 awards, which recognises top global executives leading digital business transformation efforts, Adao is recognised by the South African Professional Services Academy, as the Big 4 Professional of the Year, and a finalist for the Digital Professional of the Year.
Glaudina Loots is the Director for Health Innovation at the Department of Science and Innovation in South Africa and as such is responsible for the implementation of the Health components of the Bioeconomy strategy for South Africa, and concentrates on enabling research and innovation that leads to discovery and evaluation of new drug and treatment regimes, the development of new vaccines and new robust diagnostics, as well as the development of medical devices. Glaudina was instrumental in the creation of the Strategic Health Innovation Partnership Initiative at the South African Medical Research Council.
Glaudina is a member of the Ministerial Advisory Committees on COVID-19, COVID-19 Vaccines, as well as Antimicrobial Resistance. She also serves on the South African National Health Research Committee, the South African National AIDS Council and the Advisory Board of the "Towards and HIV Cure Initiative" of the International AIDS. She is a Board member of The Biovac Institute, a Public-Private-Partnership aimed at the local manufacturing of vaccines and biologics.
Kit's experience over the past four decades includes a post-doctoral fellowship in orthopaedic engineering at Oxford University, a tenured professorship at the University of Virginia, and 14 years as the Hyman Goldberg Chair in Biomedical Engineering at the University of Cape Town (UCT).
During this latter period, he helped to pioneer the medical device industry in South Africa, contributing to Disa Vascular, Acorn Technologies, Lodox Systems, and Strait Access Technologies. Kit is a Fellow of the International Academy for Medical and Biological Engineering.
His qualifications include a BSc (Honours) in applied mathematics and physics (Rhodes), a PhD in musculoskeletal biomechanics (Iowa) and a DSc (Med) in biomedical engineering (UCT). He is the holder of multiple United States patents in the field of biomedical engineering, and for the past ten years he has been the Chief Executive Officer of CapeRay Medical (Pty) Ltd.
Lionel is a Deputy Director in the Department of Trade & Industry, responsible for Strategic Partnerships and Customer Care in the Industrial Financing Branch of the Department of Trade, Industry and Competition. He oversees both the Northern Cape and the Western Cape Regional offices. He joined the dtic in April, 2012.
Previously employed at the Provincial Department of Economic Development and Tourism (DEDAT), Lionel worked as a Business Specialist in the Economic Empowerment Directorate. He was responsible for the implementation of BBBEE Scorecards where he advised companies how to maximise their BBBEE Scorecards;, advised on empowerment initiatives and structuring of BBBEE deals, and helped identify and assisted SMMES to access procurement opportunities in the public and private sectors.
Before joining Provincial government, he worked as a member liaison officer at WECBOF (The Western Cape Business Opportunities Forum) a constituent member of Business Western Cape a forum for business chambers.
Lionel holds a B Com (Honours) degree, as well as post graduate qualifications in Education from the University of the Western Cape. He is presently enrolled in the MSc. – International Business Administration degree program, at the University of London, which he hopes to complete in the 2021 academic year.
Dr. Nick Walker is a scientist, entrepreneur and venture builder. He received his PhD from UKZN, with a research focus in muscle stem cell biology and worked in business development and product development at Next Biosciences between 2016 and early 2018. He is a graduate of Singularity University's Global Solutions Program in 2016. In 2017, he co-founded OneBio, Africa's only VC firm focussed on commercialising biotech ventures.
Originally a high school English teacher, Nicola has over 20 years of sales and marketing experience in the pharmaceutical industry – OTC, FMCG and Prescription – having worked for Reckitt Benckiser, Janssen Pharmaceuticals, Adcock Ingram Pharmaceuticals and GlaxoSmithKline Consumer Healthcare in various roles.
She has filled various leadership and other industry roles over the years, including Chairperson of SMASA, Chairperson of the Marketing Code Steering Committee, member of CTAC, the CTAC representative on the Marketing Code Authority Board, a Marketing Code panelist, a member of the Pharmaceutical Task Group, Member of the Industry Task Group and Chairperson of the Complementary Medicine Working Forum.
Widely respected in the pharmaceutical industry, Nicola is an Ambassador to the Donald Woods Foundation, and is currently a Board Member of the Global Self-Care Federation based in Geneva, Switzerland.
Palesa Ryan is the Head of Origination and Coverage for Social, Health and Education sectors at the Development Bank of Southern Africa (DBSA). She has more than 16 years of experience in the financial services industry; spanning across South Africa's big four banks as well as the Land Bank of South Africa. Her work experience includes Credit, Workout and Restructuring, Business (Relationship Management) and Private Equity.
Prior to joining DBSA, Palesa managed the Workout and Restructuring Business Unit at Land Bank, which led the turnaround of the bank's non-performing loan book in the agricultural sector. During her tenure, she also sat on numerous committees as either a voting or an alternate member on Credit, Pricing and Asset and Liability Management Committee ("ALCO") for the Land Bank. She has also served as the Vice President and Head of Non-Bank Financial Institutions ("NBFI") for ABSA Group Limited.
Palesa holds a Bachelor of Commerce in Management Accounting and Finance from the University of Witwatersrand, as well as a Diploma in Insolvency Law & Practice from the University of Johannesburg. She has contributed insightful business and development news from around the continent to South Africa's business media such as CNBC Africa, Power FM and Radio 702.
She is currently serving as the Co-Chair of the Human Settlements Technical Working Group under the auspices of The Presidency's Sustainable Infrastructure Development Symposium.
Rakhee Dullabh specialises in technology, data privacy, cybersecurity, electronic communications, outsourcing, information technology ("IT"), advertising regulations, social media and broadcasting.
Rakhee has acted for various listed companies, state-owned entities, quasi-government corporations, public sector bodies and multijurisdictional companies in a variety of sectors, including the financial services, retail, technology and resources industries.
Her experience includes advising clients on systems integration projects, as well as other information and communications technology ("ICT") projects. Her expertise also includes drafting and negotiating commercial and TMT-related agreements, including those relating to ICT procurement, software, hardware, systems integration, consultancy, cloud-computing as well as IT policies and procedures.
Rakhee has also assisted clients with their ICT compliance requirements and has advised on legislation pertaining to TMT law, the Promotion of Access to Information Act, 2000, data privacy and protection legislation (including the Protection of Personal Information Act, 2013), the Electronic Communications and Transactions Act, 2002 and other relevant legislation.
Dr Joanne van Harmelen is a qualified patent attorney specialising in patent filing and prosecution in the biotech, pharmaceuticals and chemicals sectors.
Joanne holds a PhD in medical microbiology and vaccine development. She has extensive experience in the field of biotechnology and life sciences as well as in pharmaceutical and chemical inventions, having prepared and filed patent applications locally and in foreign jurisdictions in the fields of microbiology, biochemistry, molecular medicine, agrobiology, bioprocessing, pharmaceuticals and biologics, nutriceuticals, cosmetics, hydrometallurgical processes, polymer processes, and food sciences. Joanne is also experienced in the preparation and filing of plant breeders' rights applications.
Joanne's clients include leading international biotech and chemicals companies and start-ups with operations in Africa, North America, Europe, Australasia and Asia.
Her expertise extends to the assessment of the patentability of inventions, preparation and filing of patent applications locally and abroad, performance of freedom-to-operate assessments, general IP commercial transactional advice and IP due diligence assessments. She also advises on IP and biotech-related legislation, in particular, legislation relating to publicly-financed research and development; bioprospecting involving indigenous biological resources and traditional knowledge; and genetically modified organisms.
Prior to qualifying as a patent attorney, Joanne was employed as a chief scientific officer at the University of Cape Town, involved in HIV vaccine development and testing, as well as the preparation for Phase I clinical trials in South Africa and the United States of America.
André J Marè specialises in commercial and transactional intellectual property matters and trademark prosecution, with a specific focus on IP aspects of the pharmaceutical industry. André has a specific passion for commercialisation strategies of IP assets and assisting clients to execute these strategies – this passion is supported by a deep understanding of the nature of IP rights, the legal aspects thereof and its potential commercial use beyond the traditional understanding of IP.
He also has experience in patents, domain name management and enforcement, IP licensing strategies and antitrust and tax concerns around IP commercialisation strategies.
Prior to joining ENSafrica, André was lead legal counsel at a leading multinational pharmaceutical company, where he was responsible for maintaining and enforcing its significant IP portfolio. Spending seven years in-house provided André to an alternative view of legal practice and client's needs. This unique, solution orientated perspective has proven to be valuable to clients.
André has experience in most commercially significant territories, with a particular focus on work carried out in Europe, Africa, the USA, Latin America and China.
Vogt has been the Executive Officer of SAMED since January 2007, a company that represents the interests of 190+ medical device, medical equipment and In Vitro Diagnostics Companies in South Africa.
Tanya sits on the Nappi Advisory Board (NAB) – responsible for setting policies that promote codes for reimbursement purposes for ethical, surgical and consumable products in South Africa.
Internationally, Tanya is the South African medical technology industry representative on the Asian Harmonisation Working Party (AHWP) – a non-profit organization facilitating harmonization of medical device regulations in the Africa, Asia Pacific region.
She is also a board member of the Global Medical Technology Alliance (GMTA). GMTA members are national medical technology associations from around the globe.
David Maynier has served for the past ten years as a Member if the National Assembly in Parliament. During that time he has was a member or an alternate member of the Portfolio Committee on Defence and Military Veterans, Joint Standing Committee in Defence, Standing Committee on Public Accounts, Standing Committee on Appropriations and Standing Committee on Finance. 
Maynier has a Bachelor of Arts Degree (Honours) from the University of Cape Town and a Masters Degree in Public Administration from Harvard University. He will be working round the clock over the next five years to: grow the economy and create jobs; maintain stable public finances; promote clean government in the Western Cape.
Professor Craig Househam is a graduate of the University of Cape Town having completed both under and post-graduate study at this university. He is a specialist paediatrician and holds an honorary professorship from the University of the Free State where he headed the Department of Paediatrics and Child Health until January 1995.
Thereafter he became the Head of the Free State Health Department in February 1995 a post which he held until 2001. In 2002, he was appointed as Head of the Western Cape Department of Health, a post which he held until his retirement on 31 March, 2015. During his term of office, health services in the Western Cape underwent significant restructuring with the implementation of Healthcare 2010 by the Western Cape Government. As Head of Health in the Free State and the Western Cape Professor Househam served on various national and provincial bodies and management structures.
Since his retirement, Professor Househam has been contracted by Advanced Health and Deloitte South Africa on a consultant basis, presented a management masterclass and undertaken various other private sector consultant briefs. Professor Househam has served on a national ministerial task team related to hospital performance from 2015 to 2017, and from December 2017 to April 2018, was a member of the intervention task team appointed to assist the management of the Gauteng Department of Health. Professor Househam currently also serves on the boards of the South African Health Products Regulatory Authority, the Office of Health Standards Compliance and St Luke's Hospice.
Santie started her career in supply chain with the world's largest private healthcare provider, HCA. She has since worked in the construction, oil & gas, property, facilities management, media and manufacturing industries.
Before joining Western Cape Government Health, in 2014, Santie led strategic outsourcing projects in the UK & mainland Europe, engaging with leading service providers to establish mutually beneficial long-term partnerships.
Santie believes that supply chain officials are in a unique position to gain a deep understanding of their customers and service providers, and that public sector supply chain organizations can embrace private sector practices for delivery of optimal commercial and outcomes.
Dr Morena Makhoana joined Biovac in 2004 and holds the role of Chief Executive Officer. His mandate is to realise the objective of building vaccine manufacturing capacity in Southern Africa through Biovac
Biovac was established to revive vaccine manufacturing capabiity in South Africa. Africa has limited capbility in human vaccine manufacture. Its vision and mission is to establish sustainable world class international African vaccine manufacturing capability by contributing to protecting life through the development, manufacture and supply of much needed and vaccines. During Morena's tenure, Biovac has secured two succeful technology transfers with global pharmaceutical companies such as Sanofi and Pfizer that has allowed the company to grow its staff complement from 24 to over 320.
Morena is a medical graduate from the University of Cape Town (UCT) in South Africa. He has participated in Senior Executive courses at both Stanford Graduate School of Business and Harvard Business School. He also serves as the Chairperson of the South African College of Applied Science (SACAP).
Jeannine Van Straaten brings with her extensive experience in stakeholder relations with her background as Key Client Services Manager, and savvy and professional communication skills as Head of Broadcasting, both positions held at Classic FM.
With a degree in Law and Politics from the Rand Afrikaans University in 2003, she is passionate about South Africa, especially social integration and cites the growth of the Campaign's membership base and driving demand for locally-made products and services rendered as her key objectives at Proudly SA.
Jeannine prizes creativity in the workplace with her background in music as a violinist, and places particular importance on education and continuous personal development. Her MBA candidacy at Henley Business School is testament to this.
Other past experience includes Manager of the #IamConstitution Campaign at The Ichikowitz Family Foundation in which she witnessed first-hand the unification of people from various backgrounds who all possess one common goal, togetherness. This lesson she endeavours to share with member companies to inspire them to bridge the divide in the name of togetherness to collectively contribute to the growth of the country's economy.
William's passion is improving health systems in South Africa. With experience ranging from providing specialist healthcare as an ophthalmologist, providing healthcare in rural areas and using technology to improve healthcare he is most excited about the opportunity to work with partners to improve access to healthcare.
He is currently the CEO of Vula – an app based professional medical network that connects rural health workers with specialists. Vula Mobile Awards include: MTN Best Health App 2019, SAB Innovation Award, Apps Africa Best Messaging App 2016, International Clearly Vision Prize, African Entrepreneurship Award, Public Sector Innovation Award, Global Sustainable Entrepreneurship Award, and MTN Most Innovative App.
Vula is used extensively as one of the National responses to the COVID pandemic.
Lance Greyling graduated from the University of Cape Town in 1996 with an Honours in African Studies majoring in politics and economics. He also received a Post Graduate diploma in Sustainable Energy from the University of Stellenbosch in 2009. During the past twenty years he has held positions in the private sector, civil society and the national government sphere. He first started out as a partner in a production house called Matchframe Pictures, which produced television commercials and raised funding for video programmes. After a year and a half expedition around Africa he took up the position as regional manager for GLOBE Southern Africa, which empowered parliamentarians on issues of sustainable development.
In 2003 he entered the world of politics when he volunteered at the newly formed Independent Democrats before being appointed as their researcher and then in 2004 elected in to Parliament. During 2004 to 2015 Lance Greyling served on a number of parliamentary committees including education, finance, public enterprises, minerals and energy and environmental affairs. He was elected Chief Whip of the Independent Democrats and during the merger with the DA he was appointed in 2011 to the position of Shadow Minister of Energy.
In March 2015 Lance Greyling left the world of Parliament to take up the position of Director of Trade and Investment in the Mayor's Office at the City of Cape Town. After the local government elections in August 2016 he became the Director of the newly formed Enterprise and Investment Department. Lance is also a founder board member of the Bulungula Incubator, a rural NGO based in the Eastern Cape while also serving on a number of other boards related to his position such as Wesgro, Cape Town Tourism and the Cape IT Initiative. Lance is also a fellow of the Africa Leadership Initiative which is affiliated to the Aspen Global Leadership Network.
Dr Iyer has a long career in the university environment in a wide range of roles.
DR Iyer is currently a director in Technology Transfer & Industry Linkages at Cape Peninsula University of Technology. He completed his PhD in Molecular Biology in 2002, and went on to achieve an LLB degree with electives including intellectual property law, forensic medicine and environmental law, an MBA (dissertation focusing on valuation of intellectual property) and most recently a Master of Laws (LLM in Intellectual Property) As a researcher he was involved in various fields of biotechnology research culminating in him leading the transgenic maize research program at UCT.
The Technology Transfer Office (TTO) in South Africa is created by legislation and is dedicated to identifying research, which has potential commercial interest and strategies for how to exploit it. He remains in this position whilst also holding the position of CEO: Aonyx Holdings from January 2019.
Erik founded CrunchCure while finalizing his master's degree in Data Science & Entrepreneurship at the age of 25. As an avid runner, cyclist, meditator, and more, Erik's endeavour enabled him to combine his passion for sports/lifestyle with his data science expertise to build a product which he considered to be essential for the future of the personalized healthcare industry.
Currently living in the Netherlands, Erik will move to Cape Town as soon as he is able with current regulations working against him. Once in Cape Town, he has the ambition of establishing a community of health-conscious individuals investigating their own physiological behavior through data crunching.
Heidi has a wealth of experience in medical device regulatory compliance, clinical evaluation and certification. Furthermore, she has expertise in project management and design including mechanical, electronic and software engineering. She has a BSc (Eng) degree in Mechatronics Engineering from UCT.
Before joining CSIR, Bareetseng, managed a network of universities, research councils and biotechnology companies on strategic programmes for the Department of Science and Innovation. He has also conducted biosciences research, technology development and innovation through the NEPAD SANBio, which operates in the SADC region, to develop biosciences solutions through indigenous knowledge systems for food and nutrition insecurities and burden of diseases.
With a PhD in Microbiology from the University of the Free State and a Masters of Management in Innovation Studies from Wits Business School, as well as several certificates on advanced intellectual property management and bio-entrepreneurship, Bareetseng was a visiting Scholar at Kansai University' Institute of Legal Studies in Japan and has participated in several South African national government committees.
He is currently serving in the Complementary Medicines Quality and Manufacturing Subcommittee of the South African Health Products Regulatory Authority, as well as the Bioproducts Advancement Network South Africa (BioPANZA) of the Department of Forestry, Fisheries and Forestry.
Giancarlo Beukes is a Mechanical Engineer, Biomedical Engineer, Inventor, Entrepreneur and Co-Founder of Biomedcial.
During his Master's Degree in Biomedical Engineering at the University of Cape Town, Giancarlo developed and invented a number of medical technologies in the fields of sports medicine, asthma, allergy, orthopaedics and public health.
He has since, co-founded a multi award-winning Medical Devices start-up company called Impulse Biomedical, spun out of the University of Cape Town. Giancarlo, and his business partner Gokul Nair, founded Impulse Biomedical with the vision to develop affordable healthcare technologies for developing and emerging world markets, thereby ensuring accessibility for all to necessary life-saving technologies. Giancarlo has a passion for people and a keen interest in finding innovative solutions to solving real world problems.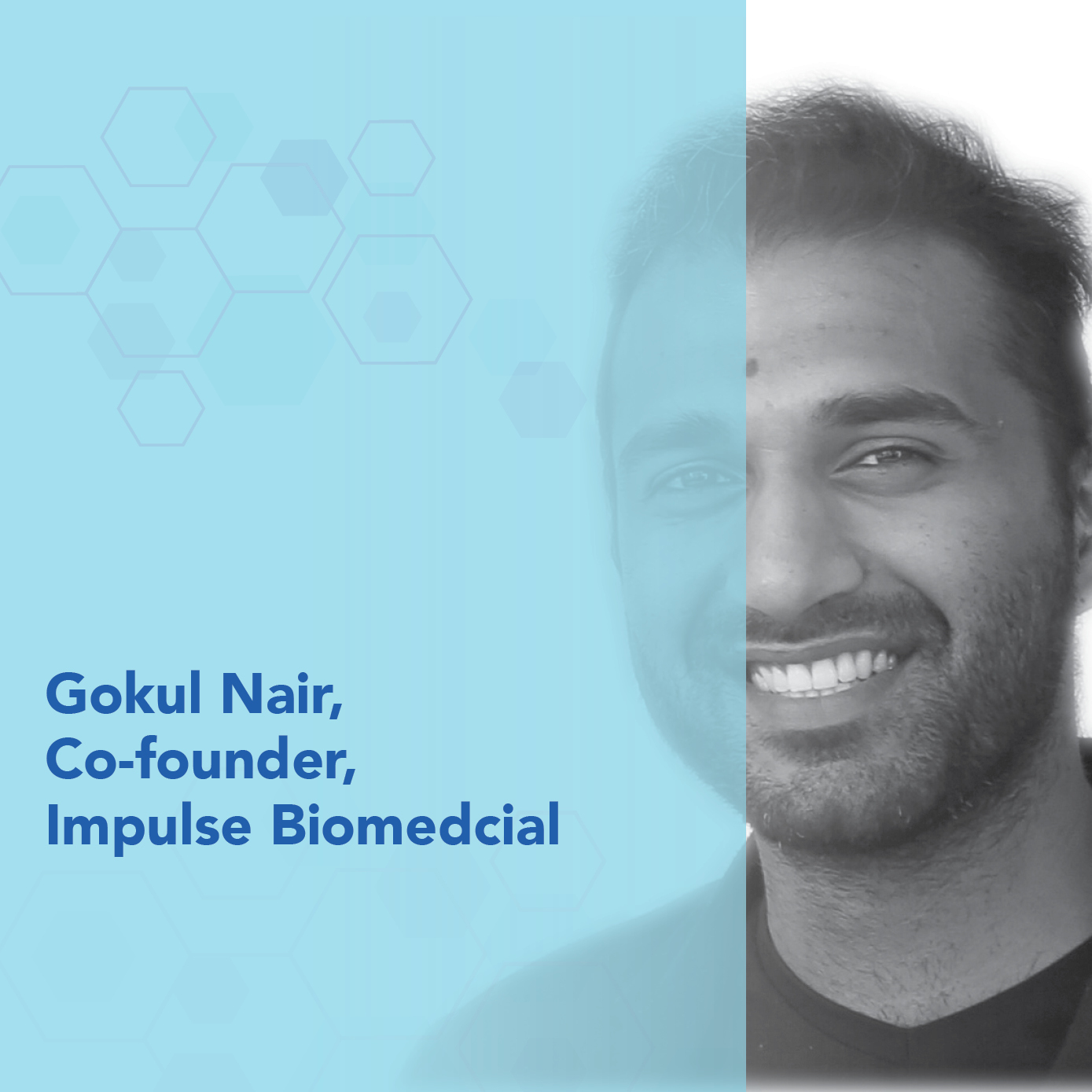 Gokul Nair is a co-founder of Impulse Biomedical, a start-up company spun out from the Medical Devices lab at the University of Cape Town, which commercialises affordable healthcare technologies for the developing world.
He has a BSc in Mechanical Engineering and a Master's in Biomedical Engineering, both from the University of Cape Town. His Master's thesis involved the development of a reloadable Adrenaline Auto Injector, which has now been named the ZiBiPen. The technology aims to reduce the recurring cost involved in the treatment of Anaphylaxis.
After developing the device, Gokul teamed up with his fellow Masters colleague Giancarlo Beukes to co-found Impulse Biomedical, with the aim to commercialise the ZiBiPen along with other technologies. This was primarily motivated by their desire to see their technologies used by patients that need them and their frustration that research outputs rarely reach market.
After completing The Venture Incubation Program at the Graduate school of Business, Impulse Biomedical acquired a foundational understanding of how to run a start-up and commercialise research outputs. The team has since won numerous awards both locally and internationally.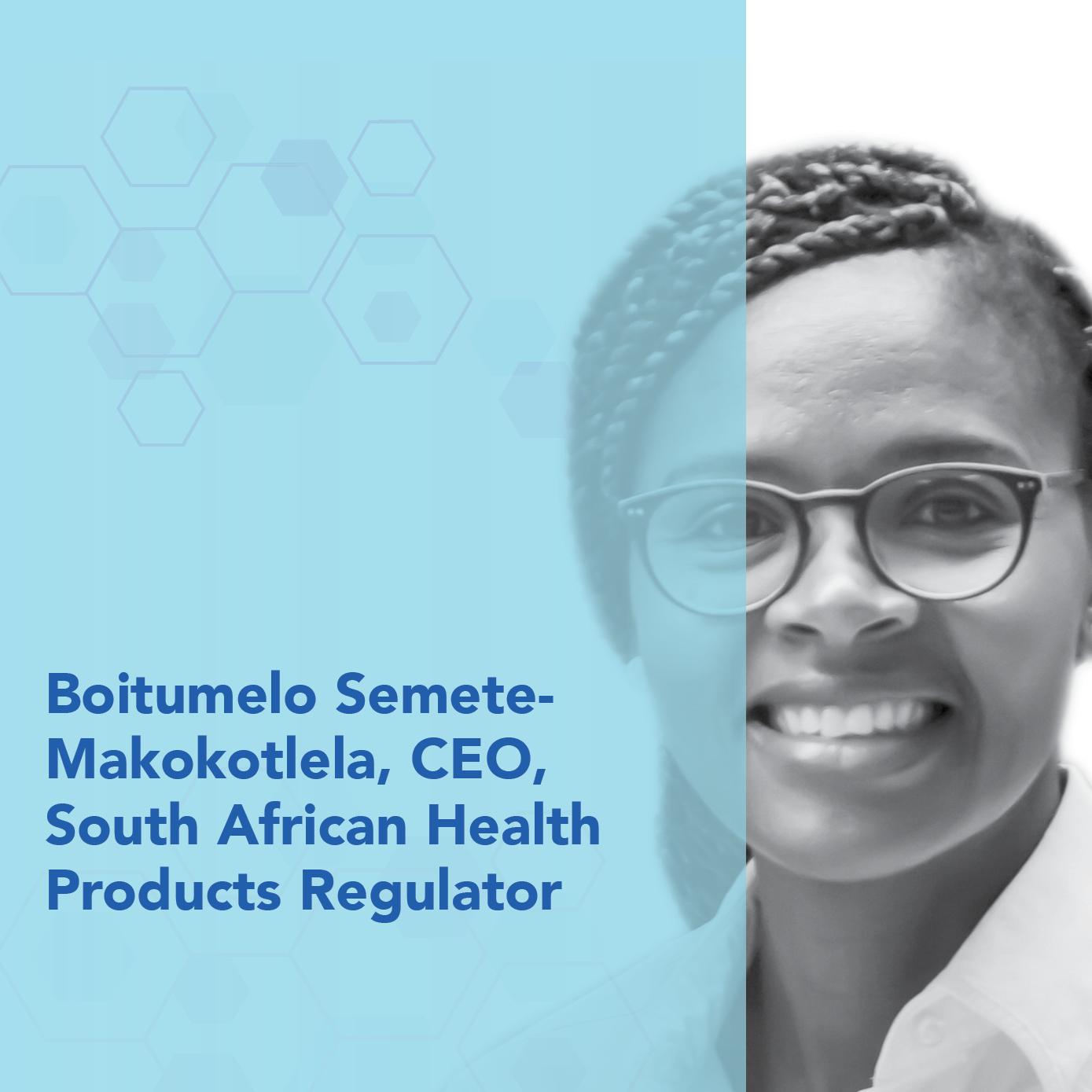 Boitumelo is the CEO of the South African Health Products Regulator.
She has a Ph.D. (Biochemistry) and holds MSc in Management Finance and Investment. She is also a fellow of the African Leadership Initiative.
Within the technology innovation space, she was the Executive Director at CSIR Biosciences and prior to that she managed a biotechnology incubator at The Innovation Hub Management Company.
She was with McKinsey & Company for 2 years as a McKinsey Leadership Fellow. Prior to that, she was at the CSIR as a Senior Researcher. She completed her postdoctoral research at the University of Nottingham and EPFL, Switzerland.
She has published as a first author and co-author in scientific publications, review articles and book chapters. She sits on a number of scientific advisory committees and Board of Directors. She is also involved a number of thought leadership projects such as the African Union Strategy for Health Research, the East Africa Community Bioeconomy strategy development team and WHO Expert Panel on scaling health Innovations in Africa.
Marc has over 20 years' experience as an investor, entrepreneur and coach, with a particular interest in health and well-being.
He currently heads Endeavor Harvest Fund II, is a coach and investor in several businesses, and on the Investment Committee of the Allan Gray E2 Ventures Fund.
Marc founded and co-headed Investec Emerging Companies, where he invested in venture capital opportunities in South Africa, Israel and the USA, on behalf of Investec Bank.
Previously he was COO at 2go Interactive, a mobile messenger, which he helped build to profitability and 10M+ active users across Africa.
Before that he was an executive at Softbank Capital in Boston, and with SONY BMG in New York, as Senior Vice President, Global Digital Business, where he helped orchestrate the global merger of Sony Music and BMG and grew the international digital business to $100M+ in revenue.
Marc was also an Investment Director at Bertelsmann Capital Ventures in Munich, the VC fund of media conglomerate Bertelsmann AG.
He began his career as an attorney in Johannesburg. He holds a BA and LLB from the University of Witwatersrand; an MBA from INSEAD; a Graduate Certification in Evidence Based Coaching from Fielding University, California and in mediation from Harvard Law School.
Marc is a trained coach and mediator and was on the coaching faculty of Harvard Business School for over 10 years.
Before joining the Department of Economic Development and Tourism, Rashid was the Managing Director of MCI in Africa. The MCI Group is the world's largest conference and association management company, and brings people together through innovative meetings, events and congresses and provides strategic association management consultancy in 60 cities around the world.
He served as the Chief Executive Officer of the Cape Town International Convention Centre (CTICC), the leading convention centre in Africa from 2008 to 2014, positioning it as a global leader in sustainability.
He has worked extensively in the travel and tourism industry, both in South Africa and abroad. He spent three years based in Amsterdam, developing business and marketing strategies for travel companies and tourism businesses in over 30 countries, working extensively in Central Europe and Latin America.
Rashid is a member of the United Nations Global Compact Advisory Board in South Africa.
He has a degree in Economics and Environmental Science, as well an MBA from the University of Cape Town with his Masters Dissertation focusing on Collaborative Leadership, balancing discipline and diversity in effective decision making.
Rashid has become a thought leader on sustainability and implementation of triple bottom line principles within an organisation.  He has spoken at several conferences, both in South Africa and abroad, about the importance and value of establishing social and environmental consciousness in businesses.
Rashid hates settling for mediocrity and wants to do profound things that impact positively on all those around him.
He says: "We all need to make the following two ancient philosophies part of our lives….the first is the Japanese concept of Kaizen – "continuous improvement" and the second is the uniquely African concept of Ubuntu meaning "I am because we are".
James Vos is the Mayoral Committee Member for Economic Opportunities in the City of Cape Town. His  portfolio  comprises  a  combination  of  the  Tourism,  Enterprise  and  Investment Department with those of the City's extensive Asset Management Departments which allows for important synergies and levers in driving economic growth in Cape Town.
He previously  served  as  Member  of  Parliament  in  the  National  Assembly  as  the  Shadow Minister of Tourism.  Prior to this, he was elected as Councillor for nearly three consecutive terms and served in various capacities such as Portfolio Chairman and Sub-Council Chairman.
During his time as public representative, James received numerous civic awards such as the Melvin Jones Fellowship and International Merit Award, and was bestowed with Aldermanship, making him amongst the youngest to receive this life title.
James  will  work  towards  the  objective  of  inclusive  economic  growth,  by  strengthening partnerships  with  the  private  sector  that  will  provide for  skills  pipelines  into  the  high  growth sectors and implementing measures to achieve the ease of doing business.
Tobie is a qualified Industrial Engineer (B.Eng) with a Masters in Supply Chain Management (EM Log) and Business Administration [Executive MBA (UCT)]. He has been involved in the design and start-up of MediCoop CFI. As an entrepreneur from an early age, he founded various companies in the healthcare and tourism sectors. In 2015 he received the Emerging Business Entrepreneur of the Year award from Sanlam and Business Partners. With his vast experience in systems engineering, business development and executive management he is fully committed to growing and expanding the healthcare industry within South Africa through co-operative principles.
A seasoned traveller, having explored multiple destinations and gained varied work experience in the consumer centric industry, which included international hospitality in England, Seychelles and Mediterranean, sales and promotion in the alcohol and telecoms industries in UK and South Africa,
creative content creation and photography for international clients, and extensive volunteering in South America during a six month, six country journey with her partner.
After building and moving on from small entrepreneurial projects, her true commercial ventures began with O-V Optics (Pty) Ltd. A business that distributes unbreakable children's sunglasses and promotes awareness of the importance of UV eye protection for kids. Her partner being a Locum Optometrist, and her interaction with optometrists,  pharmacies and general practitioners, while building O-V Optics, highlighted the need for a solution in the locum space, and so LocumBase was born.
Born and raised in Durban (KZN), Nadia studied at UKZN with a BA9LA) and LLB qualification; and was admitted as a practicing attorney in the same province. Being influenced by the civil rights movement and championing the causes of the underdog, the legal profession has given her a tremendous sense of fulfillment.
The intoxicating charm of the mother city spun its magic and mesmerized her in 2004, prompting her to relocate and join the Western Cape Provincial Treasury in its Governance and Norms and Standards Directorate. Having always had the penchant and curiosity to delve into new ideas and insights the Supply Chain environment beckoned and opened its doors for her within the Provincial Treasury and in December 2007, she became the Director responsible for Provincial and Local Government Supply Chain and Moveable Asset Management.
Her role in the main is to assist and guide on SCM and Asset management policy and procedure, set provincial standards, instructions and regulatory environment, monitoring and evaluation, track spend against service delivery, enforcement of provincial requirements, training; capacitation and development, supplier development, supplier database management, planning and budgetary monitoring.